The INVISIBLE GUY
a real soundtrack for an imaginary spy film

Addendum to Scab & the Boogie Men: BE ARSE ELVES


Copyright © 2002 - 2005 Arthur Jarvinen
---

back one page previous episode next episode contents (all episodes to date)


Scene:
The Boogie Men's success at B.G.'s Disco Danceteria couldn't have been more unexpected, being one of the only times an audience actually let them off stage without threats of – or actual – violence, and the first time that any audience danced through an entire number and then insisted they play it again. The "Missing Link" even gave the band a $20 tip - although mostly to impress the woman he was with - which Scab promptly spent on a real nice cigar for himself.
Scab calls an urgent meeting to discuss the band's new direction and determine how best to capitalize on their inadvertently created song and its associated dance. He's the only one with a motel room – the other guys have to sleep in the van, making themselves as comfortable as possible on the padding of the Kustom amps – but since Biggi has decided that she wants Scab in the "wurst way" and found out what room he's in, Scab thought it best to hold the meeting in the van.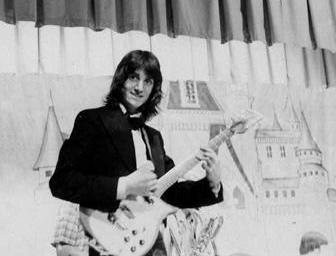 Obviously they'll have to scam some cheap studio time and knock off a single of The Disco Surfers Bumpus Rumpus to hawk at gigs, and try to get some advance airplay in the towns they plan to hit. The Baron volunteers to start writing something else just like it so they'll have a B side. In fact he's already got the title – We're Juiced B-Side Arse Elves - and suggests that it might be amusing to record some farts and play them back through a "talk box" while recording the vocals so the "Arse Elves" will sound like munchkins with farts for voices. Lance is assigned to standardize the Bumpus Rumpus moves so as to teach it to audiences, preferably while not insulting them – at least not before they're addicted to the dance and can't live without the record.
After being told to keep quiet several times, Melvyn finally manages to interject that he has already made a phone call to his cousin in Milwaukee, an assistant engineer at a studio there where the Boogie Men can get a little time in exchange for laying a couple of backing tracks for a twelve year old blind and crippled Christian pop singer who's making a commercial for God and just happens to want xylophone, chimes, and tuba, so they'll only have to pay for tape. Lance isn't thrilled with the idea, but will go along with it, and it suits Rat just fine since it will give him a chance to actually use the chimes he dragged along, which fortunately he didn't pay for, having stolen them from the band room of the other high school in their home town, where the Boogie Men played the junior dance just before leaving on their big tour.
Figuring that they can make Milwaukee in a day and a half if Melvyn drives the whole way while The Baron finishes Be Arse Elves and teaches it to the rest of them, Scab adjourns the meeting and lights his cigar, settling back and making himself comfortable in the van while tossing his room key to Lance and telling the guys they can have his room tonight as long as they don't tell Biggi where the van is parked.

Left: You can imagine how kumfy a Kustom amp would be to sleep on during a three-state van tour, thanks to all that groovy padding.

Right: Lance insulting the audience during the band's first performance of their new song "Slime Sucker Serenade" at a sophomore dance that the organizing committee decided to call "Exit To Xanadu", inspired by Coleridge's poem Kubla Khan which they recently read in English Lit. class. Rat is on drums, The Baron far left. The horn players were guys from another local band on the same bill, My Mom's Pie Crust, that asked to sit in but since they couldn't follow any of the tunes just stood there checking out the girls.
Above left: The Baron, a couple of days later at a Freshman dance somewhere in "Northeats" Ohio, taking delight in his new Rickenbacker that he stole from Milton "Millie" Miller, Pie Crust's lead guitarist, while Millie was passed out in the van. (Poor guy never could hold his Colt 45.)