The INVISIBLE GUY
a real soundtrack for an imaginary spy film

Episode Thirty-Four -BONGO'S (A Place For Bad Poetry And Worse Coffee)


Copyright © 2002 - 2006 Arthur Jarvinen
Suggested Procedure: READ FIRST, then CLICK HERE TO LISTEN. Or, listen first if you like, but in either case take Frank Zappa's advice and "Do not read & listen at the same time".
Previous Next Episode Contents (all episodes to date).
_____________________________________________________________________________________________________________________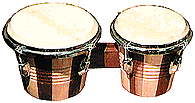 Scene:

Thanks to a few cryptic syllables painfully and ineloquently articulated in Steve McPellitt's dying breath The Invisible Guy has managed to track the Bohemioids from the Leisure Planet to Bongo's, where they have gone for the gratis sangria provided at the monthly meeting of the Revolutionary Poets Society. Tick, having finally found his bongos, gets on stage and sits in for an instrumental number with the house band.

Noticing that Tick's polyrhythmic excursions are unusually hip even for this room, The Invisible Guy scrutinizes the bongo solo more closely, discerning that it is in fact a message in code.

In spite of his bongo code decryption chops being a little rusty from infrequent use, the Invisible Guy ascertains from Tick's message the exact location of The Inevitably Exploding Island and Mojo Stang's Diabolical Factory and Outlet Store.

"Ha! I've got you now, Mojo Stang!"
……………………………………..
Claude, apparently disinterested, returns his attention to a staple-bound photocopy, thoughtfully provided to him by a friend, of some selected poems by Suzanne Somers and reluctantly sips again from a demitasse of espresso which is, unfortunately, an over-roasted house blend not even as good as Medalia D'Oro.

Right, the Thigh Master Gold, as seen on television,
endorsed by Suzanne Somers.

Above, paper doll of a typical denizen of Bongo's, with ubiquitous cup of java. (In fact, it is a paper doll of this author created in our student days at CalArts by artist Kyle Simms, whom I have long since lost track of.)

Kyle also made a paper doll of my friend Tim Wolf, whom I have also lost track of. Tim, if you're there, drop me a line.