The INVISIBLE GUY
a real soundtrack for an imaginary spy film

Episode Seventeen - THE SANGEET SURFER (Teen Tal '65)


Copyright © 2002 - 2005 Arthur Jarvinen
Suggested Procedure: READ FIRST, then CLICK HERE TO LISTEN. Or, listen first if you like, but in either case take Frank Zappa's advice and "Do not read & listen at the same time".
Previous Next Scene Contents (all episodes to date)
_____________________________________________________________________________________________________________________
Scene:

The Invisible Guy has tailed Mojo Stang to the Sakred Kow-Abunga, a nightclub featuring the best of contemporary Hindustani surf music and North Indian nouvelle cuisine - the chef's specialty being the "Holy Hamburger", sort of a joke in that it is really a vegan garden burger dressed with a tandoori-style secret sauce – where the house band, Dick Dasgupta and his Gas-Dupe-Tones, are just starting their second set.

The Invisible Guy observes as Mojo Stang takes his usual seat at his private table, where his favorite beverage and appetizer have been placed only moments before in anticipation of his imminent arrival. Stang gives the waiter an almost imperceptible nod, after which the young man approaches the band stand and quickly whispers something to Dick before returning to the kitchen for more naan.
Dick, seated cross legged and leaning over his Coral electric sitar, speaks into the microphone. "We have had a request to play Teen Beat '65, which unfortunately is not yet in our repertoire. Perhaps it will become. For now, our good friend might enjoy this new composition, The Sangeet Surfer, which you may prefer to think of as Teen Tal '65", and with that, Dick begins the alap.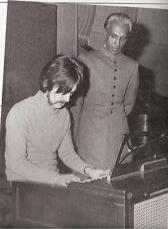 Having suitably warmed up to the new mode, Dick glances at Rajeev Pispoor, who begins laying down the tabla groove for the composition proper. As the tune begins to unfold the dancer discreetly enters and begins moving gracefully in time to the droning music.
For a few moments The Invisible Guy finds himself lost in the steady rhythmic pulsing and buzzing tones of the trance-like music, until something suddenly jars him out of his reverie, as if he had just been pinched. "What's wrong with this picture?"
Enthralled by the music, The Invisible Guy had barely noticed the dancer, but now he scrutinizes her closely, particularly her hands. The classical mudras are not unfamiliar to him, Vedic art and architecture having been more than a passing interest in his high school days. "So what goes on here?"
"Damn if she isn't signing!" The Invisible Guys remembers just enough ASL - from when all the girls used it in junior high school to converse during class and he found it expedient to learn the basics – to combine that with the traditional Hindu symbolic gestures and discern the essence of the lithe woman's stylized movements.
"Holy Holsteins, I gotta go!" – and he is outta there without waiting for the tihai.
. . . . . . . .

Claude puts down the Cliff Notes version of the Mahabharata just long enough to order another India Pale Ale, made by a trendy local micro-brewery, and some more naan.
Left - The "Heart Attack" Mudra - Do this if you're having one, and it's supposed to go away (yeah, uh-huh).
Center - The Letter "Y" in American Sign Language.
Right - "Hang Loose"

Above Right: Dick, in the studio, coaching an unidentified English sideman on the drone part for his new tune,

Bombay Beach Party.





The Real Dick Dasgupta

The character of Dick Dasgupta is based on the late Amiya Dasgupta, a wonderful musician and human being who had a great sense of humor and openness of mind. Though I never actually studied music with him - not being Hindustanically-inclined - I greatly enjoyed getting to know him when I was a student (and later a resident artist) at the California Institute of the Arts, where Amiya taught for many years.

> One time my house mates and I hosted a beach party at our place in Newhall (nowhere near a beach, in case you don't know). We played Annette Funicello records, and put a pile of sand and a floor lamp in the corner for anyone who wanted to enhance the vibe. Amiya spent quite some time reclining in the sand, catching a few rays, and smiling a lot.


Toby Holmes and I suggested to Amiya that it would be fun to start a surf band together. We would call it Dick Dasgupta and the Dasgup-Tones, and we would play all the surf classics with sitar instead of guitar. Amiya was totally up for it, as long as we would transcribe the music for him. Somehow, we just never got around to it, and the project, to my continued regret, never happened.

The Sangeet Surfer is affectionately dedicated to Amiya.